Uniforms, Sports Jerseys, T-shirts, Polo Shirts, Jackets, Caps, Etc.????
Deciding on what type of apparel to print your design onto can be somewhat challenging, especially when there are several options to choose from. For ideas on available brands, styles and colors, click on any one of our
apparel suppliers from the list below. We would be better able to assist you with a more precise quote if you can provide us with the style # and color of the desired items to be printed.
American T-shirt Company
(T-shirts/ Polo-shirts/ Pullovers)
Teamwork Athletic Apparel
(Sports Uniforms/ Jerseys/ Caps)
Augusta Sportswear
(Sports Uniforms/ Jerseys/ Caps)
The Screen Printing Process: "Turning Your Ideas Into Reality!"
Step 1: You think it!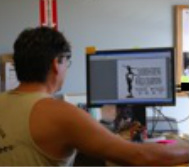 We start with the customer's idea or logo. Next, we send it to our graphic department to start shaping it into the final design. Upon approval, we then take the final design to our production department to create the screens for each of the colors in the design and then we begin the printing process.
---
Step 2: Making of the screens: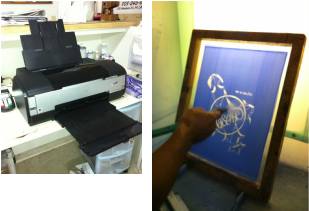 A film positive needs to be printed out for each of the colors in a design (3 colors = 3 separate film positives). These films are then placed on a prepped screen (previously coated with photo sensitive emulsion) and exposed to a 3000 watt metal halide light. After being exposed, the screens are then washed out with a pressure washer revealing the desired image to be printed.
---
Step 3: Printing!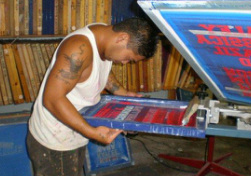 Each color (screen) in the design must be blocked, taped, set-up and then squeegeed. Screens are attached to a manual printing press in the order by which they will be printed. Shirts are loaded one at a time onto a printing pallet and each color layer is printed separately. Shirts need to go through a "flashing" or drying between each color layer before the next color can be printed.

---

That's How We Do It!